This section contains the selected article.
[28/05/2020]
As lock-down is set to ease, runners everywhere will be starting to think about the best way to regain the fitness that might have been lost in recent weeks. Of course, each individual will have had their own exercise regime - some may have had more time on their hands and have actually gained fitness.
Let's imagine that, before lockdown, you were a typical recreational runner. Yu were running 3 or 4 times a week, covering 5-8km each time. Your pace was pretty average (neither lightning quick nor super slow). During lockdown you eased off, but still did one or maybe two runs a week. Where will you be right now?
The science says that, for every week you miss running, it takes a week to recover your lost fitness. So, if you did nothing at all during lockdown, it would take you around two months to get back to where you were. Assuming you did even a small amount of exercise, you can expect that to be reduced by half.
Where to start – that's the big question. Ideally, you would do a "systems check" to assess where you are right now. How strong are you? How flexible? How is your capacity to breathe? We'll cover all of that in future articles. For now, we want to set out a road map that ends with you ready to run. You can then input your current state as your starting point and then decide which route you should take. In other words, decide where best to focus your effort.
Here's a diagram that sets out the main factors that make a runner. Basically, we can divide them into four categories:
1. Ability
2. Speed
3. Endurance
4. Source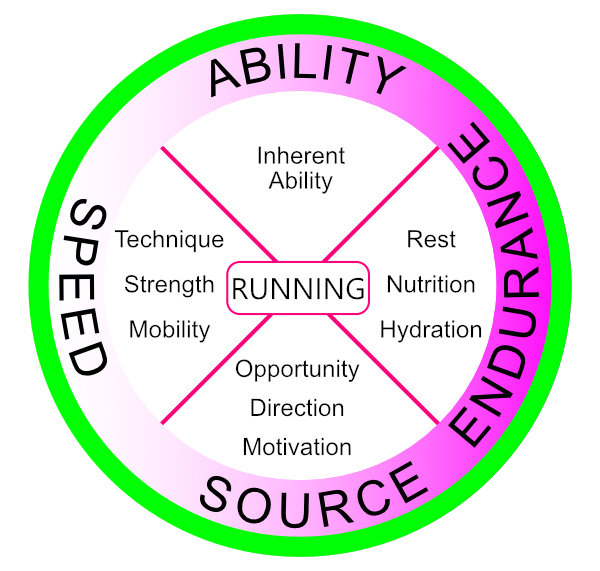 There isn't much you can do to change your inherent ability. Like the colour of your hair, you have what you are born with. If you have short legs, you'll never be a world champion sprinter – no matter how hard you try. What you CAN do is to take a look at your profile, think about what you've managed to achieve in the past, and come up with some concept of where your peak might actually be. As a recreational runner, you won't necessarily expect or even want to reach that peak, but it's still good to be aware of your potential.
Speed
Speed comes largely from training to improve your strength and mobility (some would call this flexibility). Most of all, though, it comes from good technique. Here at Recreational Running, we're big believers in improving "running economy". Let's think about a motor car. You can have a car which is built to be fast. It'll consume lots of fuel when driven to the max. At the other end of the scale, you find small runabouts that are mostly designed to be functional and economical. It's much the same with running. Run as fast as you can, and you'll be tired out very quickly. Go slowly, and you can sustain your run for quite long distances. The best plan is to be neither really fast nor really slow. Running Economy is what lets us run faster without putting in any additional effort.
Endurance
If we want to run farther rather than faster, we need to focus on our endurance. On this side of the diagram, the main components are shown as rest, nutrition and hydration. Presumably you'll have had plenty of rest recently. But maybe your sleep pattern has taken a knock. If that's the case, this is the first thing you should put to rights. Aim to get back into a pattern of reducing those late nights, and aiming to get at least 7 hours of quality sleep each night. As you start to re-establish your fitness, your body will be going through a lot of adaptation, and the time that your body adapts most is when you're asleep.
How has your eating and drinking been? Our thoughts about nutrition and hydration are normally in the context of during a run. But, right now, you might need to take a hard look at the last few weeks. Have you put on a few pounds? Maybe you've been taking a few more adult beverages than is usually the case. Now's the time to think about getting back on the wagon!
Resources
Lastly, we must think about the "Source" of your speed and endurance. This breaks down into your support mechanisms. During lockdown, your opportunity to go running will certainly have been changed in one way or another. Has it been increased? Or reduced? Stayed about the same? What about the plans to ease us out of lockdown – will these changes still be in place, or will they change?
With running clubs and groups being shut down, individuals have had much less chance to get coaching or other direction. As we emerge from the restrictions, all sorts of questions will be in our minds. You need answers! So it's time to get in touch with your coach, leader or other source of direction. If nothing else, working your way through your "Back to Fitness" plan will give you some internal direction. You know yourself better than anyone else. You probably have some idea of what you need to do. What better place to start?
Lastly – but in many ways the most important of all – is motivation. The last few weeks have been difficult in many ways. We've had to think about many things, and take on a different way of life. If your running has taken a hit, you may find it difficult to get started again. If you were used to running in a group, you might now be used to doing your own thing. If you were training for a particular event, it's probably have been cancelled. For many reasons, your motivation for running may have changed. So … where are you right now?
The Next Step
As we go through the coming days and weeks, we plan to provide articles and features that will help you assess where you are right now and help you plan your road map back to fitness. So come back and prepare to be that runner you were!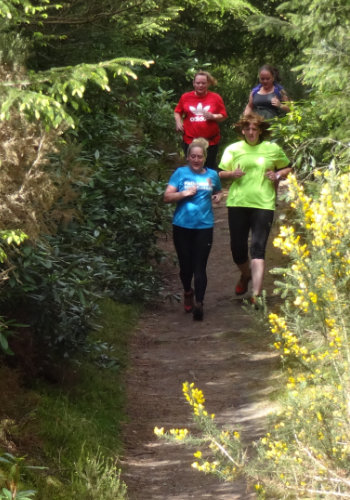 "Everyone will have their own road map back to fitness"